Where To Keep Your Boat During A Hurricane in Miami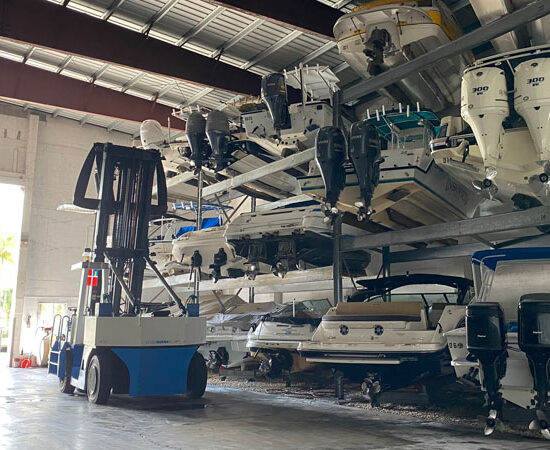 Weather experts predict another above-average hurricane season in 2021. Where will you keep your boat should a storm hit?
The National Oceanic and Atmospheric Administration, NOAA, predicts another above-average hurricane season with 17 named storms, eight hurricanes, and four major hurricanes. The season starts on June 1 and goes through November 30, with the peak of storms affecting Florida in August and September.
Last year was a busy season, with a record 11 storms making landfall in the U.S., including six hurricanes. No matter the prediction, it is essential to have a hurricane preparedness plan, and a location to keep your boat should a storm hit your area.
The Best Place To Keep Your Boat During a Hurricane in Miami
Most boating experts would agree that the best place to keep your boat during a hurricane is an indoor dry storage facility like our friends at North Beach Marina or any dry inland location away from tidal surges and strong winds. If you cannot remove your boat from the water, the next best option is to look for shelter in a canal or "hurricane hole" with land protection on all sides and secure your boat to a boat lift or dock using strong lines with plenty of slack to account for the tidal rise.
When moving your boat inland, you will want to check the condition of your boat's trailer to make sure it's working correctly, as it is your best option to transport your boat away from the storm to a more sheltered location. We always recommend inspecting your trailer tires and bearings now to make sure you're not scrambling to make repairs as a storm approaches.
Top Ten Hurricane Season Boat Preparation Tips
Create a Hurricane Plan for Your Boat
Secure In-Door Boat Storage
Update Your Boats Insurance Policy
Move Your Boat to Dry Land
Secure Your Boat to a Trailer with Tie Down Straps
Remove All Loose Items
Seal the Openings
Remove Drain Plugs to Let Excess Rain Water Drain Out
Inspect the Bilge Pumps & Float Switches to Make Sure They're Working Properly
Check Your Boat's Trailer to Ensure it's Working Properly
Contact Us for Help
At Happy Trailer Storage, we've seen our fair share of hurricanes over the years and are here to help you prepare. For more information on where to keep your boat during the hurricane season contact us at 786-728-9988 click here.
Tags:
education
,
hurricane season
,
tips